July 26, 2020 at 12:51 pm
#45595
sandra jones
41

Rookie
This was definitely a challenge.  I used a freebie kit  by Antebellum press called "Bohemian Sunshine".  I also used a couple elements from Angel Scraps kit called "A Mother's Love".   I changed the color on  some of the elements.  I made the felt, the paper clip and the word frame.  The picture is of my daughter who just turned 33.  I had problems again with my shadows and what layers my elements need to be in realistically- like the paint shouldn't be on top of some papers but under others but I think I figured it out.
Lynda:  Happy Birthday!  My grandson's birthday is on the same day.
To every one else:  Great job on the hunt!  The layouts are awesome.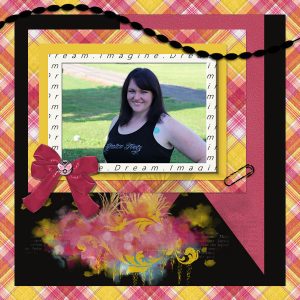 stacie-final