March 20, 2020 at 7:12 am
#40597
Cristina
1122

Superfan
Lynda, Trish, Helen, Minka, Dorothy, and Bonnie, everyone is doing nice and creative work. Well done!
Here is the page I created to practice the tutorials from the Lab10-Module 03 (Bracket Frame – Boot Print – Custom Sign). I finished some time ago and forgot to upload it to the Campus.
The photos are from The International Forest Art Trail, an art exhibition that takes place every two years since 2002, and each time with a different theme. The artists come from different parts of the world, and they create their work in the forest. Last year the theme was Ecology.
Background: KAagard "Great Outdoors" pattern2 – Alpha: BellaGypsy "Frontier-leather-red"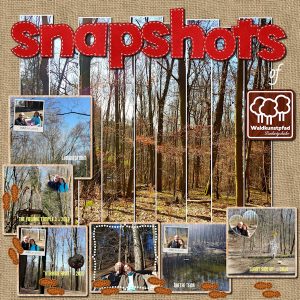 cass-Lab10-M03