March 4, 2020 at 1:26 pm
#39934
Colleen
47

Rookie
** Looking for opinions ***
I've been driving myself crazy trying to make different kinds of glitter. I did Cassel's glitter tutorial and I liked it, but it didn't look as good as hers. Sooooo, I tried again, but this time, I used circles instead of squares. I'll do the squares again, now that I think I might have gotten the basics down.
So, I'm wanting opinions from everyone, or anyone who will answer. 🙂  I have 2 different glitters in this pic, side by side. The one on the right side, I used my gold foil as the base color and then changed the hue/saturation, etc, to get it close to the pink on the left side. The one on the left side, I used pink, obviously, and then a couple layers I changed the shade of the pink (some darker, some lighter). For both I also added some white glitters, but the glitters on the right were using a soft brush and a gaussian blur – the left one I used a regular hard brush & only added a slight blur. I have sparkles/flares that I will be adding to these, but haven't done so yet. I wish I could make them shinier, but I haven't figured out how to do that yet.
Can you all tell me which one you like the best, the left or the right?  (Please ignore the fact that the one on the right isn't as vibrant as the one on the left – I just need to adjust it more) I'm leaning towards the one on the left as the one I like best, because of the different shades of pink I put on several layers. But I like the glowing on the right better than the left.
P.S. Please ignored the small spaces where there isn't a glitter, just the color background. I'm not completely done with these yet – just wanted opinions first.
Thanks!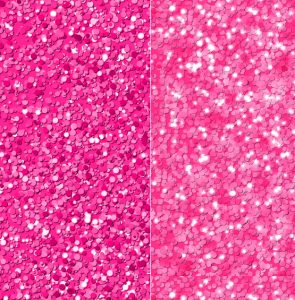 different-glitters-side-by-side