January 19, 2020 at 7:06 pm
#37745
Dorothy Donn
178

Junior
BOOTCAMP DAY 5:
I learned two new things while working on this task for day 5.  I have used grids and guides in the past but never the proper way the snap to grid feature worked.  I also learned that pinking shears could be used via the eraser. Thanks for that information Cassel 🙂
Trixie's first friendships were of course her breeder but sadly no photo of her.  She did send me photos of her sire and dam. We also took her to register at puppy school and she met her teacher.
The frame element was a two sided one  so I placed it on two layers and used selection tool to remove one on one layer and one on another layer, used move tool and slide them together and then merged the two layers. The lion and bear are tubes of mine.
This was fun!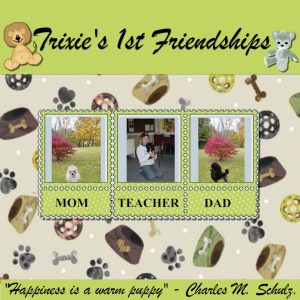 FriendshipsDay5bydd