January 10, 2020 at 4:11 pm
#37183
Cristina
1056

Superfan
Here is the layout I created to practice the Lab9 – Module 12 tutorials (Multicolored Dot Circle – Snowflake – Mitten). It was fun.
Photos are from the Christmas Markets we visited this year.
Credits: Cassel – Multiphoto Frame template – 12 photos freebie; Papers by DiHiller (PixelScrapper) "Country Christmas 2019".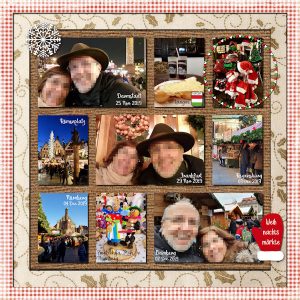 Lab9-M12-Weihnachtsmärkte-600