January 9, 2020 at 3:11 am
#37151
Jan Wilson
51

Junior
Hi everyone, just finally saw the Newsletter about this thread.
We are safe.  We live on the South Coast of New South Wales, on the coast out of Nowra.  We have had some effects of the fires like fire rages 15Kms from us on 21st December.   The sky turned from Day to Night in the afternoon, burnt leaves and sooty ash rained down with lots of choking smoke.   It was eerie.  We had gotten watch and beware alerts on phone and mobiles that there could be ember attacks and evacuations may be imminent.  It was a very stressing day and the first of several over the next week.
Fire fighting planes were continually filling up in the river, swooping down, skimming water and taking off again to fight nearby fires.  The road in or out was closed (only one way in)  It is a coastal village famous for its beaches.  This a day to night photo in our yard.
The same thing happened 26th December with another fire 12 Kms away at another location very near Nowra – the fire had jumped the Shoalhaven River and was burning out of control but luckily for us (but not others) the raging winds fanning the fire was not blowing the fire in our direction towards the coast, but it was warned if an expected wind change occurred late afternoon- it would.   The Shoalhaven and other South Coast areas have so much National Forest- it burns quickly and fiercely.  It was a holocaust  because the land in in severe drought, forest etc are tinder dry.  Gale  force winds did not help.
Whole towns further down the Coast toward the Victorian border and over the border were devastated by fire, several burnt, homes and livelihoods lost – even several deaths and I think the total is seven so far.  Whole towns were forced to take refuge on beaches.   The problem is it is summer school holiday time and tourists and visitors were in great numbers and as roads were cut or closed, they could not get back home North or South.  The Government ended up evacuating people by Navy boats and helicopters.   Widespread power and communication outages added to the chaos, fuel and food ran short.  It was a complete nightmare to these people and townfolk.
Now I hear this weekend it could start all over again as high temperatures and winds may eventuate.
It is so sad also when you see the harrowing images of burned wildlife, Koalas, Kangaroos and others.  These fires have been burning right along the East Coast of Australia for weeks.  Also in Victoria, South Australia and even Tasmania.
We are Australians, we will survive and rebuild.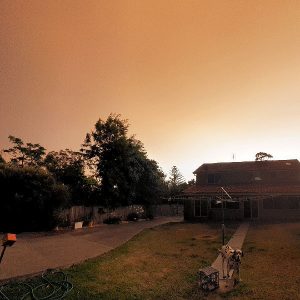 View-of-Fire-Sky-21-12-2019