October 5, 2019 at 9:31 am
#34955
Michele
884

Superfan
Sue, I did center them, but I guess something went wrong. That's one of the reasons I kept starting over from scratch. Maybe I scaled them incorrectly? Whatever it is, I'll keep trying.
I love all of your work, as you already know. I think I've seen most of what you just posted except for that last one. It absolutely looks 3-D; an exceptional job.
You know, I can use all the techniques I learn, but I just don't have the creativity to come up with many original ideas. I've always been more of a "mimic" in all things creative e.g. music, art, dance. I'm not complaining; just explaining. I always enjoy what I can do.
Dawn, since I know you're not on Facebook, I'll share a screenshot of the triple frame directions that Sue posted. If the screenshot is not clear enough, please let me know and I'll email the instructions to you.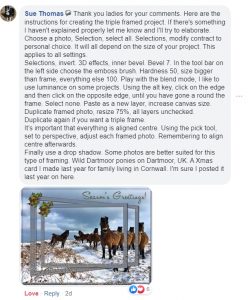 PSP-Triple-Frame-Sue-Thomas-from-Facebook