March 13, 2019 at 12:59 am
#26770
Barbara Hall
76

Junior
Day 3–I had planned to use some pictures I've taken of pelicans for the bootcamp assignments, but yesterday I photographed something else  that I thought was interesting and changed my topic.
The insect and flower elements are by janet scott at pixelscrapper.com; the grass overlay is by marisa lerin at the same site.  The paper is by RvMcSou, though I recolored the green.
This reply was modified 1 year, 7 months ago by

Barbara Hall

.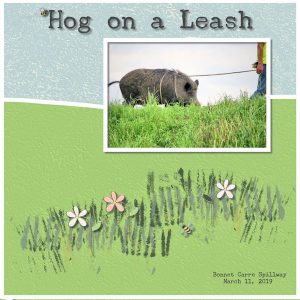 Hog-on-a-Leash-resized