March 8, 2019 at 2:24 pm
#26566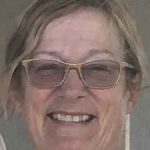 Royanne Hewko
121

Junior
Thank you for the comments.   Annie and Cassel your pages are very inspiring.   I really enjoy looking at the work of other scrapbookers.
My mom was a seamstress and she taught me how to sew.  I then taught my daughter how to sew.
My daughter and I sewed my granddaughter 12 pairs of PJs.   I took a girl from the kit LLiella PJ Kids.  With the freehand tool, point to point, I went around her body, arms and legs and filled with actual pictures of the fabric we used for the  PJs we made.   I added a bevel to make it more realistic.  Then I selected the hair bows and slippers and changed the color.   I used cass-ColoredEdge for the red around the edge.   I used a quilt paper.  It sure took a long time to finish, but overall I was pleased.
11-22-Sharisse-sewing