December 11, 2018 at 10:13 pm
#23077
DeLoris Musick
264

Enthusiast
Carole, that was funny & Patricia a very sweet story.
I don't have a story about a present, but, I have a funny Christmas story.
When I was 15 I moved to Ky to live with my mother's sister.  She was my Aunt Ree.  She had a wonderful sense of humor and I was scared to death having lived in multiple foster homes.  We made Gingerbread Men to hang on the tree my Uncle Phillip & I went up in the mountains and cut ourselves.  We were decorating the cookies, and she took chocolate sprinkles and put them in the Gingerbread Men's armpits and crotches!  She giggled and I was shocked!  We hung them on the tree and no one noticed.  This is one of my fondest memories!
Hugs,
DeLoris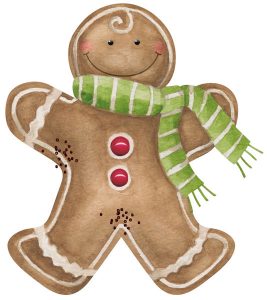 gingerbread-man