May 24, 2018 at 3:24 am
#18983
Marlene Lingham
241

Enthusiast
Day 4 was really easy thanks to Cassel's Scattered Photos script. I ran the script resizing the photos as suggested and adding a border. I chose not to add the shadows when requested as I was't sure whether I would leave the photos where they were. After the script ran I did some adjustments to size, rotation and placement, trying different things until I was happy with it. Very quick and easy.
I chose some of the photos from the studio tour I did in 2013, an absolutely fabulous experience for someone who is a Harry Potter fan and also interested in sets, props etc. I think the tour has changed since I was there, I would love to go back and see it again. I would thoroughly recommend it to everyone, even if you are not a Harry Potter fan just seeing all the background stuff was amazing.
I used the colour of Gryffindor house for the background, the quote was from a set called "Harry Potter" which I got years ago but I don't know where from. The font is ParryHotter, found in a few free font places. I had a few other elements but decided I didn't want to clutter the page up.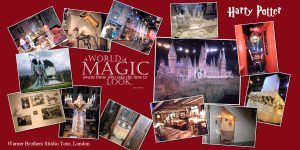 Day-4-Both-Pages-1