April 28, 2018 at 9:50 am
#18454
Cristina
1097

Superfan
This is what I made for this challenge.
1_ I added frost and snow on the ground and roof following a YouTube tutorial from IrishActs  – https://www.youtube.com/watch?v=uwpWMNkJA6w
It is very easy… Color Changer Tool (Tolerance=2 Edge Softness=20) Material Palette Foreground=White… Flood fill over the parts of the image you want.
2_ I wanted to darken the sky but didn't know how to do it. So, first I selected the sky, promoted it to a new layer and then tried different tools… I finally got something I liked… Adjust > Brightness and Contrast > Highlight-Midtone-Shadow… Here I had to play with the numbers.
3_ Finally I added snow… This technique I learned from Cassel's Winter Wonderland Masterclass. Great class.
Thanks to Cassel and the challenges I learn a lot.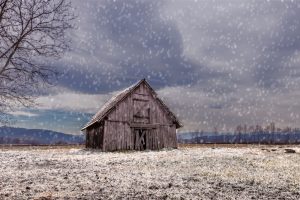 2018-04Apr-Photo-Challenge-1000