September 12, 2017 at 2:15 am
#14844
Marlene Lingham
241

Enthusiast
Cristina your page looks really good, love the way you've done the title and the colours match so well.
Dawn sorry to hear about your Mum, hope she gets out of hospital soon, broken bones at her age will take a while to heal.
So here is my contribution to Communication. I didn't have any photos that suited either but thought I would tell the story of when my sister-in-law had to nearly sit on my husband to get him to write home to his Dad: we cornered him in a motel while on holiday. He only got to see his father one more time before Bert died, so it was nice that he had at least had the letter as well.
The alphabet paper was a freebie from somewhere, the lined paper was from a pack called Three Two One GO, and the letter and envelope were scanned from Mum's originals. The rotary phone was clipart, the push button one is on my wall at home! The font is Dr Sugiyama (if it's not very clear I'll type in the journalling – it is ok when full size).
The photo of Russell's Dad was taken not long before he died in his early 80's. Mum's was taken I think when she was about 90 – she was 94 (by two days) when she died.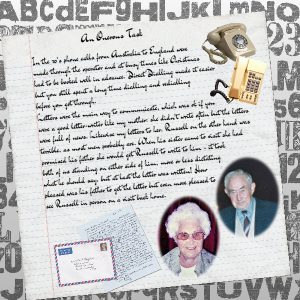 Communication