August 11, 2017 at 6:06 am
#14418
Cristina
1060

Superfan
This is the page I made inspired on the Lab 07-Module 07. From the ideas given, I used the color wood texture for the background paper and created the negative chevron and lined overlay papers (cass-tutorials).
I added the clip (Blue Flower Art freebie) and Multiple color title. Instead of each word of a different color as suggested, I made each letter with another color using the technique shown on cass-Masterclass-NO KIT SCRAP 2. The font is Happy Camper, also mentioned in the lesson.
I included BuburuResources freebies elements; Date element from Sheila Reid-MAR 2016 Unwind Blog Train and KAagard-ByAir-BorderStitches-Black.
I had fun making this page based on my first lesson of The Lab.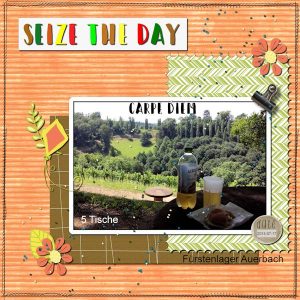 LAB-07-Module-07-Seize-the-Day-Carpe-Diem-600-2