August 3, 2017 at 4:11 pm
#14304
Cristina
1053

Superfan
Here is my take on this challenge. I used cass-Embossed script for the blue and yellow paper, cass-LaserCutDoilies Round freebies, and cass-RibbonFactory script.
I added  Corel SummerClipart freebie and PSP Buttons Picture Tubes.
I tried the Sand Effect for the title following the tutorial that was given in the Travel Tale Challenge. I was not sure with the settings, but I liked the effect.
For the colorized Word Art I used three fonts: Plump, GrilledCheese BTN, and Wednesday. The last one I got to know through the last LAB module 7-07.
I was tweaking and tweaking with no end in sight…  so I decided to stop, post the page and move on to another challenge. 🙂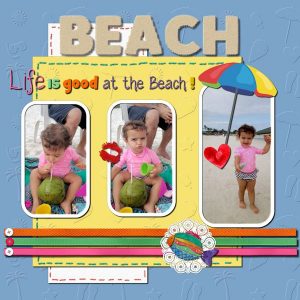 Tut-Tech-07JUL-Colorized-Wordart-600-1