July 18, 2017 at 1:39 am
#14034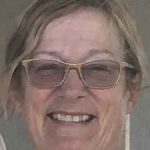 Royanne Hewko
121

Junior
Dawn, lovely page and colors.  The way you made Even stand out is great.
Marlene such a great story.  I like how you used a picture in the back and you sure made Even stand out.
I spend lots of time in my flower garden.   We live on a farm and there is a lot of flowers.   So whenever anyone offers me help I take it cause EVEN Grammy gets help (sometimes).   I used several fall theme kits to make this page.  I really like the font.  I used Arial Black, then I used cass-ChalkTexture, with a smudge of 2, a border of 5 and texture size of 2.   Then I put a small drop shadow, Vert & Horz of 5, Opacity 80 and blur 2, on the Border layer.   It gave it a neat effect.  I put a simple off-white frame on the pictures.  I put them behind the basket to make it look like there were in the basket.  Put a small rotation on them to add a bit more effect!!  I am really trying to work on perspective shadows so I tried to put one on the garden shears.
09-06-Royanne-Lexi1