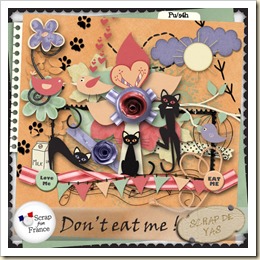 Can you guess what she is allergic to? I am not telling you… yet. I will, however, introduce you to this French designer who works under the name of Scrap de Yas.
Yas is the second contributor to the Scrapper's Dozen. Did you see her secret ingredient in the video?
I have to admit that I didn't know Yasmine, just a few months ago. So, as I discovered her, I hope you will also do the same.
The beginning
"I started digital scrapbooking in 2009, when my son was born, then, in 2011, I created my first kit for the birth of my daughter. That is what got me started as a designer the next year."
Paper or Pixels
"In the past, I have tried traditional paper scrapping, but I found that it was too limited since I would often be missing some supplies for what I wanted to do."
How do you do it?
"In my kits, I tried to include as many personal elements as possible, so I will often take photos. And of course, I will use my own kits to scrap since I create them to my own liking."
In style
"My style has changed over time. When I started, I was mostly creating realistic kits, but since a few months, I am using more and more drawn element."
Likes and dislikes
"When i started, I didn't like to do papers, but that changed. Now, I love it. I love searching for the perfect pattern, find a texture, play with the brushes. The longest process is the extraction of my personal elements.
What color?
"The colors I use in my kits are just following my own preferences. You will often find blues and purples, but rarely pinks because I can never find a way to use that color in layouts."
"Don't eat me"
"This kit was triggered by my love of black cats. Since I am allergic to cats, the only way to get close and personal with them is through scrapbooking!"
In the kitchen
"I love to watch cooking shows, but I am not a culinary artist in general. However, I love to prepare a tiramisu, some canellonis or a home made pizza."
In the Scrapper's Dozen video, I used Yasmine's kit to wrap some cat food (maybe I should have shown my cat too). Do you recognize the paper used?
Find out a little more about Yasmine, on her blog here.
Did you watch the videos for the Scrapper's Dozen yet? Yasmine told me that the tip I share in the video #1 is the same thing she showed her mom who is starting in digital scrapbooking.
If you haven't watched it yet you still have time. Click the cupcake to watch it.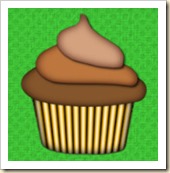 Remember to come back for the next secret ingredient!