How long have you been doing digital scrapbooking? It looks like Traci might have started even before you did!
Traci is contributing a great kit for those of you wanting to display photos related to those males in your life. Don't you find that so many products seem to have a "girly" feel with all the flowers and glitters, and such.
Did you notice her product as a secret ingredient in the first video?
From the start
"I have been doing scrapbooking since I was 9 years old, so that means i have been doing this for 20 years!  I started out doing traditional scrapbooking before there was digital scrapbooking. I was attracted to digital because I could make my own supplies and everything was so much less expensive. Plus, I have a natural aptitude towards the computer, so I prefer it."
Designing or scrapping
"I don't think there's one I prefer over the other.  I think they're totally different creative outlets and love both! I often scrap using my own products! In my Scrap-Spiration class I tend to ONLY scrap with m products. It's like a personal challenge, to see if I can be content in only the things I make, and most of the time I am!"
Time changes
"After 9 years of designing, it's impossible not to change.  My style now can be pretty eclectic.  I make things for traditional scrapbookers, Project Lifers, art journalers and more."
Fun and challenge
"I think tapping out the last few embellishments is the most difficult part. You're ready to be done, but still need to fill out the rest of the kit so you can get burnt out pretty quickly. On the other hand, my favorite part is watching a kit come out of the inspiration in my head.  I love making the product I'm imagining appear in Photoshop."
A favorite color?
"I'm not sure! I put out so many products, I'm bound to repeat colors.  I love aqua so I bet that's in there a lot!"
What about Mr Mister?
"I love creating boy kits and I wanted something that could be used for both little guys, big guys and husbands."
In the kitchen
"I love to bake! Too much.  I make the best cookies in the west ;)"
In the Scrapper's Dozen video, I used Traci's kit to illustrate some spice. Do you recognize the paper and the alpha used?
You probably have heard about Traci (everyone knows about her, right?) but check out her blog and her Facebook page.
If you haven't watched the videos yet you still have time. Click the cupcake to watch it. (you will also get links to watch the other 2 videos with more tips and tricks)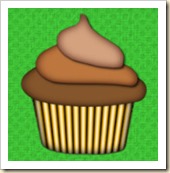 Remember to come back for the next secret ingredient!