I discovered Sita's products very recently. I love her design and finding that the elements seem different than anything else i could find in stores. In fact, there is a reason for it. Do you know why? Read further to find out.
Sita is another of our generous contributors to the Scrapper's Dozen event. You can see this fun and versatile kit she is offering.
The beginning
"I started scrapbooking in October 2007. I never did paper scrapbooking before because here, in Czech Republic, it is not common and is very unknown as an activity. And i am very poor with glue, i have all my works dirty and wet  :D"
Scrapping or designing?
"I prefer designing. I love the part of my work when the kit is ready and i see all the layouts created by my CT and customers. I do scrap with about 95% of my own products. For the last 5% of the scrapping supplies, they are RAKs from other friends - designers."
Design rules
"My style is exactly within my strict rule to use MY OWN material only. I am using my own photos, create my own styles, brushes etc.. I don't sell my images either, so you cannot see the same element or paper in any other kit around. But I am limited with my rule too - I can use them  I can paint, or take the photo only."
The ups and downs
"I find it challenging to sell the kits. I am happy to have great shop manager who does spotlights, sales, challenges and other actions to help to the customers find my work. I do spend a lot of time to cut and extract some needles, horsetails, bushes and laces from the real photos. In my designs, I love to use streaks, fog, lights and other spots and smears - it is very creative for the people and i love to see how every scrapper uses them in a very unique way."
Violet?
"I love violet! My CT members dislike violet and purple so much, so I have set up a rule for myself that only every 3rd kit can be with those colours only!!! I also love a specific shade of the green colour (70a70e) 🙂 I think 7 is my happy number :)."
Bright in Gloom
"This kit is inspired with the beautiful fall forest in one small city Karolinka  in Czech Republic. It is the celebration of the harvest and the autumn nature."
In the kitchen
"I am very good at baking :))) I bake my own rye bread, yeast cakes and cakes. When I bake for my friends, I know they love brownies.  Brownies are not very known in my country and lot of my friends they eat them for the first time in their lives from my oven. And be sure they fall in love :-)"
In the Scrapper's Dozen video, I used Sita's kit to wrap a big bag of flour (maybe to make brownies!). Do you recognize the background paper from her kit?
To find out more about Sita (as PST Designs) check out her blog.
If you haven't watched the videos yet you still have time. Click the cupcake to watch it. (you will also get links to watch the other 2 videos with more tips and tricks)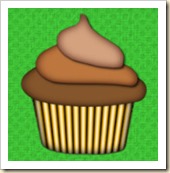 Remember to come back for the next secret ingredient!