Do you know Missy? Missy is a designer who has been doing scrapbooking since almost 10 years, but as she started with traditional paper scrapping, and made the transition to digital scrapbooking a few years later.
Missy is one contributor to the Scrapper's Dozen event and will be providing you with her kit, "Almost Autumn" when you register to the event.
The beginning
"I started scrapbooking several years ago, more precisely in 2004, after my son was born. I guess that is common event to spark interest in scrapbooking, isn't it? then, I discovered digital scrapbooking in 2007. With little hands around, the ease of cleaning and not having small things to put away all the time was a major advantage. It is also quicker to just hit "save" instead of putting away a project in the work!"
Scrapper or designer?
"I do both so I scrap as I create my kits. For me, it's all about preserving my family's history first. I have always been a paper style scrapper and designer, however, over time, my kits are now leaning more towards the illustrative, themed side and are a little less general."
Challenges and pleasures
"I find it pretty challenging to design when i feel like my muse has gone missing. I feel that any designing, at that time, is nearly impossible. On the other hand, I love seeing how others use my products in layouts."
Favorite colors
"For boyish kits, I tend to lean toward bright primary colors, but for other types of kits or themes, I don't necessarily have any favorite colors or recurring ones."
And in the kitchen?
"I LOVE to bake! I make most of the birthday cakes and desserts for family gatherings. My most requested recipe is for my Kentucky Pecan Pie.  In the southern United States, pecan pie is a really popular dessert.  Kentucky style adds chocolate chips and a shot of bourbon.  I usually sub out the bourbon for spiced rum or if you want a non-alcoholic option you can add vanilla."
This is no surprise that in the Scrapper's Dozen secret ingredients, I used Missy's kit to wrap my chocolate chips! I used one of her papers and the alpha. Do you recognize it?
Do you want to know more about Missy, check out her blog.
(shh.. you might want to check her post on October 7th, for a little something special!)
You didn't see the video about the Scrapper's Dozen yet? It is still time to check it out. Click the cupcake to watch it (and get a few FREE tips along the way).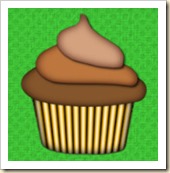 And look for the ALMOST chocolate!
And come back later to find out about the OTHER secret ingredients!