Jenn, designing under the name Triple J Designs, says she noticed a lot of orange and purple in her kits. Do you know why? Read more to find out.
Jenn is our 5th contributing designer to the Scrapper's Dozen event. Are you familiar with her work? You might want to just check out her store. Click on the preview to check.
New to scrapbooking
Jenn has been doing digital scrapbooking for only a couple of years, but had been doing traditional paper scrapbooking before, for 12 years (almost as long as Traci!). "I was attracted to digital scrapbooking because it was easier and less expensive."
Scrapping or designing
"I love scrapping AND designing but I love designing  > this much < more! I do scrap with my own products as time allows. Most kits are inspired by my family and I use them to scrap those events."
Getting better
"Over time, my style has definitely changed. When I started, I was only using basic techniques, but now, I am able to do so much more!"
Easy and challenging
"What I find the most difficult part is deciding what elements i will add after the papers are done. On the other hand, I really enjoy seeing the finished product and also seeing what my Creative Team members and other scrappers can do with my products."
Purple and orange?
"I have noticed lately that I will tend to use some colors more often than others. I tend to lean toward orange and purple, but I am not really sure why." (I guess we won't get a definite answer on the reason!)
"Who Says"
This is the title of a song from Selena Gomez and it was inspired by my 14 year old daughter. She is at that age where she things she is ugly, hates her body and live in general. The colors in that kit are her favorite colors and the owls are her favorite animal."
In the kitchen
"I grew up in a house where the oven was always on and something was baking. When i find the time to bake, I love to make chocolate chip cookies, breads and of course… cupcakes!"
We always need eggs in the kitchen, and in just about any baking, right? So, even though I didn't wrap the eggs with any paper from Jenn's kit, I referred to them as "owl eggs". Honestly, I am not sure if owl's eggs would be as big as chicken eggs, but I really could not find the right kind in my kitchen.
Do you want to follow Jenn? Check out her blog HERE and her Facebook page HERE.
Click the cupcake to watch the last video of the series (you will also get links to watch the other 2 videos with more tips and tricks) and go download your free printable shortcuts bookmark.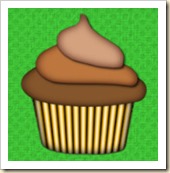 Remember to come back for the last secret ingredient!
Now, it is time to register to the Scrapper's Dozen event. The first tutorial will be released on October 28th, so your first challenge will start on that day too. Join the fun. Challenge yourself. Learn a lot.
Register now
And remember to bring in a friend too. It is so much more fun with a friend to play along!